Advanced Property Mangement offers property mangement, homeowners association mangement and condominium association managment throughout Brevard County including the cities of Cape Canaveral, Cocoa, Cocoa Beach, Grant-Valkaria, Indialantic, Malabar, Melbourne, Melbourne Beach, Melbourne Village, Palm Bay, Palm Shores, Rockledge, Satellite Beach, Titusville, West Melbourne, Mims, Viera, Suntree, Merritt Island, Micco, Port St. John and Indian Harbour Beach.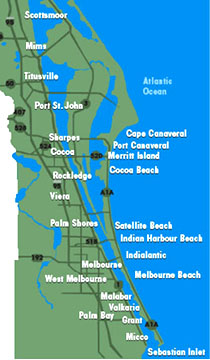 Property Management
APM's geographical reach includes the cities of Palm Bay, Melbourne, Melbourne Beach, Indialantic, IHB, Satellite Beach and Cocoa Beach in Brevard County.

APM's property management services include the operation, management and oversight of commercial, industrial or residential real estate in Brevard County for the behalf of its owners.

Our property managers act as a liaison between the property owners and the residents and tenants of said property. This arrangement, we feel provides for a buffer between the two entities which creates "distance" that allows for rational and equal management of the property.

More specifically property management is involved with daily upkeep and maintenance of the property to insure a safe and consistent environment for the property owners. Other roles of the property management company is managing the accounts and finances of the real estate properties, and participating in or initiating litigation with tenants, contractors and insurance agencies.

It is imperative that the property manager gives special attention to landlord / tenant law, also their functions included evictions, non-payment, harassment, reduction of pre-arranged services and public nuisances. Knowledge of current and applicable municipal, county, state and Federal Fair Housing laws and practices.

If your Rockledge, Cocoa, Port St. Johns, VIera or Suntree property is not getting the most from your current property manager, give us a call at (321) 636-4889.
Homeowners Association Management
Homeowner associations in Titusville, Merritt Island, Mims and Port St. John trust APM with their day to day maintenance and long term financially and structural stability of the sub-division or neighborhood.

Membership in the homeowners association is typically a condition of purchase. Thus the collective group of owners is responsible for management of the common areas and community integrity.

Because this task is a full time job, typically the homeowners association will hire a licensed property manager. Hiring of a property management company falls to the board of directors, who request proposals and then retains that company with the responsibility to properly management the homeowners association's property.

With the number of sub-divisions and neighborhoods in Brevard County, like Viera, Rockledge and Titusville, hiring an experienced and competent homeowner manger is important.

An HOA and the management therein provides the residents with shared neighborhood values, an opportunity to enforce regulations, consistent with overarching statutory constraints, to achieve a community representative of such values.

For homeowners associations in Titusville, Cape Canaveral, Merritt Island and unincorporated Brevard County, Advanced Property Management in Rockledge trusted partner in the management of your sub-division or community. Give us a call at (321) 636-4889. We look forward to hearing from you.
Condominium Association Management
APM's condo association management strives to provide point of contact for all condo owners, account for all financial transactions and accounts, payment to all sub-contractors hired by the condo association board of directors. APM insures that all work perform for the benefit of the owners is done properly and within in the contractual terms.

Part of owning a condominium involves paying condominium fees. These fees go to the condominium association who maintains the condominium complex. Advanced Property has expert accounting system to handle this task.

Condominiums maintenance can vary from general grounds upkeep to more complex management of pools, golf courses and all common building like club houses and game rooms.

Condo residents often live in such close proximity of each other that is it inevitable that issues will arise. Sometime the condominium association's board of directors handles these disputes other times when the issue involved expertise outside of the board, a condo association manger will act as a third party mediator.

Since the board of directors of a condominium association usually turns over each year, the continuity of a condo association manager is very important to insure long term sustainabillity of the condominium and surrounding real property.

Condominium associations in Cocoa Beach, Merritt Island, Satellite Beach, VIera / Suntree, Indian Harbour Beach and Indialantic have relied on Advanced Property Management for years. Give us a call at (321) 636-4889 and see what we can do for you.